mithen
Batman 19: Written by SCOTT SNYDER and JAMES TYNION IV; Pencils by GREG CAPULLO and ALEX MALEEV
Superman and Batman haven't interacted a whole lot recently in canon that I've spotted, short of discussing tactics here and there. But this month featured a couple of more in-depth interactions, the first of them in the
Batman
title.
As most of you probably know, the most recent Robin, Damian (also Bruce's son) died recently. Bruce is, of course, not dealing with it terribly well. So I was really happy to see that Clark isn't steering clear of his friend right now. The first hint we get of that is in the main story by Snyder & Capullo, with this brief exchange: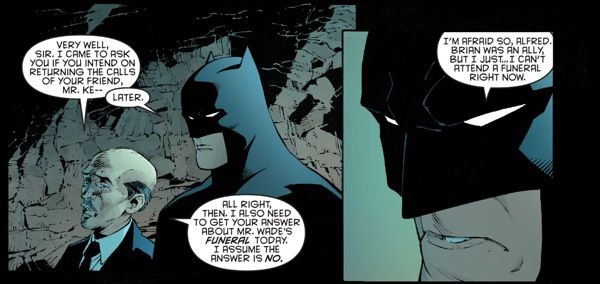 *wibbles*
This scene pays off later in the backup by Tynion & Maleev, where Superman shows up to talk to Bruce, even though Bruce isn't very interested.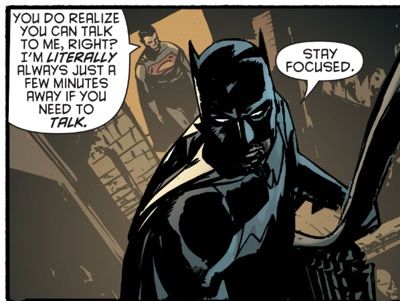 I like the dynamic Tynion has here--it would be out of character for Bruce to open up to Clark right now, but he isn't driving him off, either. It seemed a very realistic friendship to me--Clark wants him to know he's there for him, and Bruce at some level (I think) wants the company, he's just not ready for a heart-to-heart.
Snyder has said he's been writing interactions between Superman and Batman recently--I'm curious as to whether it will be in the
Batman
title or in the Superman title he's picking up starting in June. With only that one first panel to go on I can't tell how he'll write them yet...